Who are we?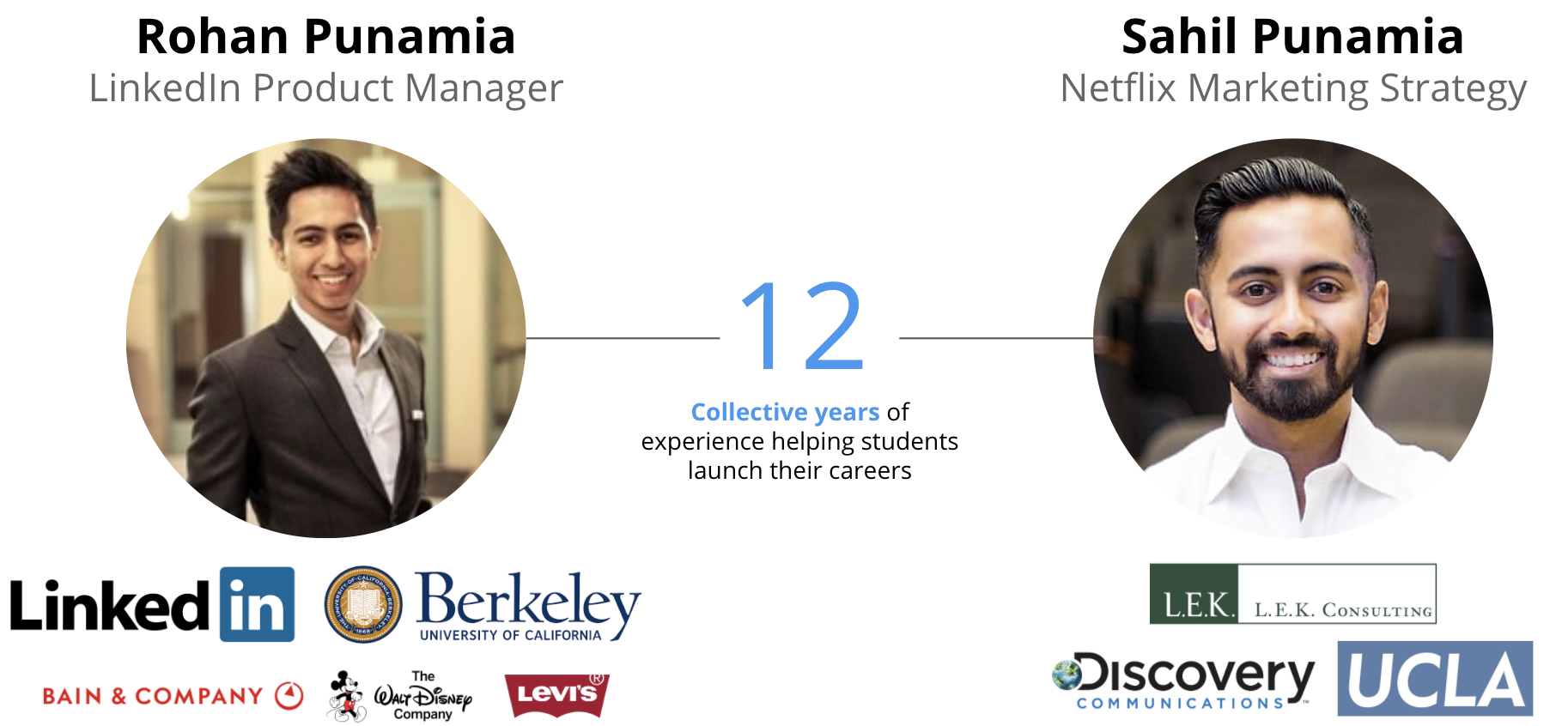 About Sahil

"I actually never got into college through the "traditional" method of applying in high school.
Well, I did apply to UCLA in high school and got rejected, but ultimately got into the university via a special appeal program through the school's music department.
It was a double-edged sword -- getting into my dream school but then dealing with the imposter syndrome of being surrounded by 35,000 other students who, on paper, were more likely to succeed than I was.
Throughout my time in college, I learned (the hard way) how to leverage the intelligence of my peers (rather than compete with them), and through peer-to-peer learning, was able to have an incredibly rewarding and enjoyable college experience. By leading a number of student groups on campus geared towards professional development, I got very good at pinpointing the types of issues college students face when looking to build their careers in preparation for full-time employment.
Upon graduating, I tested the same strategies I taught younger students on myself, and landed a job at L.E.K. Consulting, a company that was listed on Glassdoor's Top 25 Toughest Companies to Interview With. After a brief subsequent stint at Discovery Channel helping with the $15B acquisition of Scripps Networks (HGTV, Food Network), I landed my dream job at Netflix, where I work today as a marketing strategist for Original Series and Stand-up Comedy Specials.
In addition to my insanely fun career in entertainment, I also travel around the country as a keynote leadership and career development speaker for college students, and act as a consultant to career centers and university professionals in the career services space. I'm also a certified course instructor for the esteemed National Association of Colleges and Employers (NACE) and sit on the board of the UCLA Alumni Association."
About Rohan

"I have always been fascinated by people's career choices and what they spend their life accomplishing.
In 2017 I graduated from UC Berkeley where I majored in business administration with a concentration in entrepreneurship & technology. At UC Berkeley, I noticed three interesting trends with student career choices:
Some of my peers graduated with $100,000+ jobs, while others struggled with their career and graduated unemployed

Many students specialized early in college to get ahead, without going through a process of self-discovery. This led to dissatisfaction with their first few jobs

Students graduating with 6-figure job offers were under a lot of pressure to choose traditional, prestigious career paths, often deprioritizing their personal interests to "fit in" with peer expectations
I wanted to graduate with a well-paying job and accelerated career trajectory, but on my own terms. I believed there must be a way to explore my career interests and stay ahead of the curve without sacrificing my personal goals.
Through 4 years of trial and error, euphoric 6-figure job offers, stinging rejection letters, and writing over 100 thousand words on career advice for high-achieving college students, I've learned what it takes to launch your career... and I can't wait to share it all with you!"